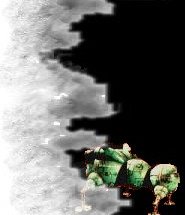 &nbsp&nbsp&nbsp Ahh, the Red Dwarf sector of Sweet Tangerine's Garden. It hasn't evolved, but it has survived =) The full summaries (chock full o'spoilers) of Series VIII were written the day I watched the episodes and have not changed much since, but enjoy them anyway. Also, the premise blurb I wrote to tell a friend about the show is at the end of this page.
Episode 1: Back In The Red, Part One
Episode 2: Back In The Red, Part Two
Episode 3: Back In The Red, Part Three
Episode 4: Cassandra
Episode 5: Krytie TV
Episode 6: Pete, Part One
Episode 7: Pete, Part Two
Episode 8: Only The Good

RD Wallpaper, RD Logos, and even RD Fan Fiction!